I'm a super awesome Social Media guru, baby!.
Am I hell!!
What I am is aware. Aware that there is more to this than paddling around in the shallows of facebook.
"Guru":  no way!. Passionate:  yes. Learning:  very yes, and hungry for more.
I've just got back from a trip to America.  I've never been to Silicon Valley before and as much as I am a self-confessed geek, what I saw was more than just "geekery" or "nerdishness".  What I saw was boundless:  boundless in the sense that it is immoveable, a huge entity that is unstoppable.  And unless someone works out a way of turning off the internet, it's not going away.   It'll just get bigger and more all-encompassing.  It will touch more and more of our daily lives - "augmented reality" is no longer just a phrase out of a sci-fi comic.
Consider Google.
They started off in a garage and now they have a "campus" the size of a large village - complete with their very own T-Rex!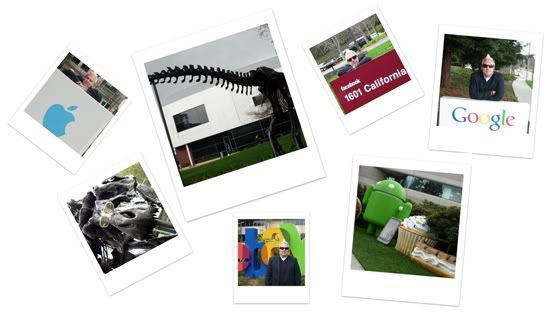 So it is no secret that I have this passion for the web, and there is no secret that I have a desire to learn more - after all non of us are experts, merely participants -  maybe participants with experience, but participants nontheless. 
I don't know where the web will go.  I don't know if I will be using a phone in 12 months or a "communicator".  How will I use the web?  How will I transact on the web?  How will I work on the web?. How will this effect my life, family, time  - what I do know is that it has, it will and it's there.
The web moves in dog years, seven times faster than normal years,  so as much as it may be 20, in reality it acts like 70.  It's wisened.  It demands respect and it deserves it.
So inspired by my trip to the birthplace of social communications and inspired by the very essence of social media, as in the act of sharing, Vanessa and I  have decided to create a monthly event in Guildford.  We are calling it The Surrey Social Media Tribes and it is dedicated SMO - social media optimisation.
You can see a presentation I have done below which explains more.
As V. and I have always said, to quote Kevin Kelly:  "None of us is as smart as all of us".  So if understanding Social Media, the Social Web, and the contemporary forms for web communication/s is important in your world, then I hope this event is for you.
After all, we need you to lead us.
This month's event, scheduled for the 24th of March, is going to focus on getting the most out of LinkedIn.   I have brought in the person who communicated LinkedIn to me the best, Marc Perl.
Click here
for further details, and to book on.
P.S I did get the tee shirt.
Regards N