Social Media Misconceptions 6: Revolution not evolution ...
This is the sixth in my series of blogs dealing with Social Media Misconceptions.
Today's is titled: Revolution not evolution.
Is social media revolution not evolution then?
No.
Why should it be?
If we break down the term "social media", it is the act of sharing in a social manner. As
stated in a previous blog
, we can trace this back 14,000 years to when early man shared advice on how to bring down wild game by painting on a cave wall.
A group or tribe of people discussing this was called a
social network
.
Question: what happened?
What happened to this action that has been known about for so many thousands of years and been an innate part of our evolution, that it is now so misunderstood in the contemporary world we live in?
Where did it go wrong?
I mean, for thousands of years we have happily shared ideas, helping, teaching, nurturing, and supporting each other - yet it would appear that, in the not too distant past, we have lost the ability to share freely.
As many of you probably know, part of my daily routine is
strategically placing companies on the social web.
However, it is increasingly becoming obvious, that, prior to getting them to the level to where I can get them deployed on-line, and getting them to "pipe" the torrent of search patterns on the web, I have to go through an explanation of what being "social" on the web means!
Increasingly, my answer is simply this:
just use your common sense.
We do it every single day. I am doing it right now. You are going to do it dozens of times today. You will share information without even realising it. You will share the football results from the weekend, you will share your thoughts on the new book that you just finished, you will share a new restaurant that you went to, you will share a joke you heard in the pub. You will share your opinion on the car that you drive with someone who is considering buying the same model. You will put your arms around someone and take time to listen to them when they need a shoulder to cry on. You will show somebody your photographs, you will lend someone a DVD, you will cut a clipping out of a magazine because you know your friend will be interested in it. You will give someone a lift to the train station, you will recommend a good plumber, you will introduce one friend to another, you will see a lonely person at a party and invite them into your conversation/group. You will introduce a work colleague to your golf club. You will tell everyone about the film you went to see.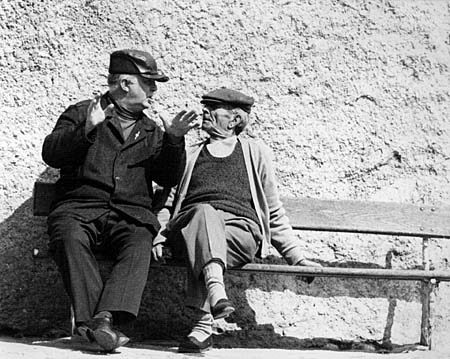 All of this makes you feel good, because you are thinking of others, you are making things happen for others, and making someone else feel noticed and special. It is natural to want to share something, or someone, that we ourselves got value from.
In that action, you are making your friend feel noticed, you are making your work colleague feel noticed, you are making your prospect feel noticed, you are making your client feel noticed. You are making your future client who you have never yet met feel noticed. You are sharing yourself and people will share you and your information with others! It shows you care. We know this to be true.
But, it seems that when it comes to the web, you ask the question "why?". Or you say, "
I don't have time"
... or "Yet another thing to cram into my already hectic day" ... or "
it's not real or tangible business
".
And the $64 billion dollar question ... "
What is the ROI on social media
?".
Yet, for thousands of years, no one has ever asked what the ROI on sharing is!
They have just got on with it.
Those proclaiming social media as a fad have no problem in sharing that opinion around off-line, and, ironically, often on-line!
Having said all this, I think I am wrong. I think I have made a grave error. I am sure that I don't know what I am talking about at all. Or do I?!
Is social media
really
a revolution? Is it that hard to work out how to incorporate it into business/life in general? Or is it simply
evolution
and you are doing it already unconsciously, but not in an efficient manner using contemporary methods, which, at the moment, is via the web?
You have a choice: say it once with your vocal chords to one person or a million times to a million people with your fingertips (via your keyboard).
Either way it is the same effort.
This should be seen as a
revelation
, not a revolution!
In my infinite ignorance I would say that 150 years ago the Industrial Revolution was born. And in this industrial revolution, corporations were born. Birth, school, work, death. From between the ages of 5 and 20-is we went to school and we were taught how we were going to be when we left school and entered the corporations. From the age of 20-ish to 65-ish we exchanged time for money. So for the best part of 60 years, we have had it ingrained into our psyche that we have to exchange something for money and this has gone on for several hundreds of years. I would argue that society had a hiccough. It lost its ability to care. I believe that the individual wants to care, but society as a whole, has lost this. I think this is why, in the work that I do, I increasingly have to explain what to do what is, in fact, the obvious. And what is in fact
natural
to us.
So why, when it comes to the web, is it so difficult for us to transfer ourselves from off-line to on-line sharing?
It would appear that society as a whole tends to kick against revolution. In certain eyes, the web is seen as a revolution, and naturally change is something that is feared by most.
Whereas in reality, the web is actually
evolution.
A natural progression. A continuation of what has gone on before.
Note: I believe what I said above is true, however, I do equally understand that the web world that we live in is in its infancy. In reality, it has only been in the mainstream for the last decade. (I know it is older, but I am talking about the "mainstream"). The web moves in dog years, so what is on paper 10 years old today, is, in reality, 70 years old. So it is hardly surprising that it can appear to be daunting. But with a modecrum of guidance and a little bit of strategy and a good sharp dose of common sense, the web can be your friend.
Thank you for reading my blog. If the web is of interest to you, you want to get started in the most efficient manner possible, but you unsure of how to move forwards, then you might like to consider
how to implement a social media strategy for your business
. I have a few places left on my training day which is happening this Friday in Guildford. Click >>>
here
for details.
You can read my previous Social Media Misconceptions blogs >>>
here.
Regards
N